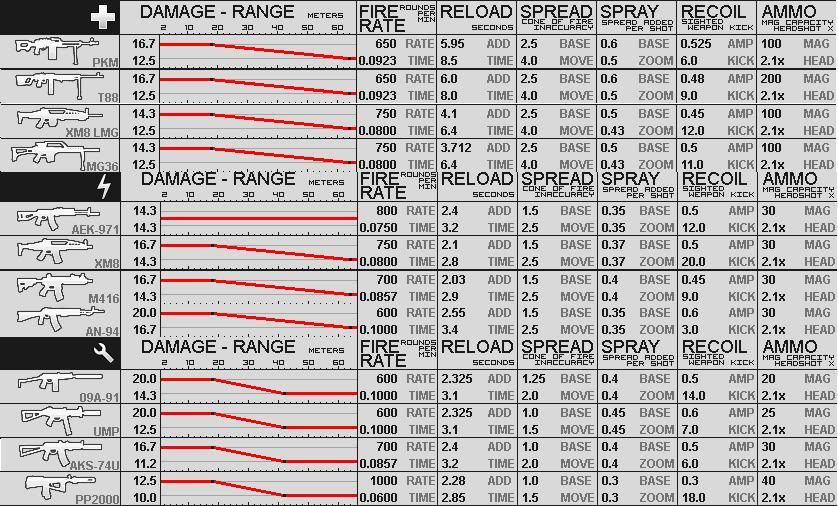 Right, i've scaled down the chart to this.
I've removed Recon, because if you use it in a match I will shove one of those tracker ball thingies up your arse.
I've also studied the stats and removed the weapons that are inferior. The ones that are left it's pretty much a choice of personal preference or situation what you go for.
Assault for example.
M16 has been removed because it is now rendered useless by the AN-94. It does a standard 14.3 damage no matter what the distance, and as you can see the AN-94 will do the same at distance but more at range. The M16 also hasa higher kick/bullet spread and takes longer to reload.
I've left the XM8LMG in there as a matter of prefference really. I see no reason why anyone would not use the MG36 over it as they are identicle, apart from the MG36 having its own built in Red Dot, freeing up your Spec1 slot for more nades or faster sprint.
Engineer comes down to preference and situation the most in my opinion.
The AK74 is obviously the best all round gun but at long range you might be tempted by the default 09A with some magnum rounds to do the most possible damage per bullet. Similar at close quaters you might preffer to use the PP2000 with its high capacity clip and high rate of fire at the expense of raw stopping power.
Hope this helps you all
EDIT: Not sure how to display this at full res on the forums so heres a link:
i26.photobucket.com/albums/c149/bigpigpl/wepstats.jpg